Workshops
"Charming Baskets"
(Small block) Students will start with a charm pack of 5" pre-cut squares and learn to make tiny 3" basket blocks using piecing and fusible applique techniques. 3 hour or 6 hour options. A great companion workshop for either the
Big Block/Small Block
or
Baskets: An American Classic
lecture.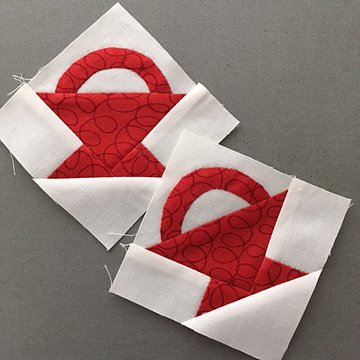 "Charming Logs"
(Small block) Students will start with a charm pack of 5" pre-cut squares and learn to piece accurate 3 1/2" Log Cabin blocks. 3 hour or 6 hour options. A great 3 hour workshop that pairs well with any lecture.
"Jam Squares"
(Large block) Start with a package a 2 1/2" pre-cut strips and learn to make big beautiful 22" blocks. 3 hour or 6 hour options.Pairs well with the
Big Block/Small Block
lecture.
"It's Magic!"
Learn 6 ways to use the Magic Triangle Ruler. Students will learn to make the original Shaded Four Patch and Birds in Air units as well as make half square triangles two at a time, quarter square triangles, trimming techniques and other clever uses - all with one ruler. Each student will need to have their own ruler. This 3 hour workshop is a great companion to the Random Block Sampler lecture.
"Random Block Sampler"
Students are invited to bring sets of blocks in different sizes to make into a stunning sampler quilt. In the first half of this 6 hour workshops students will learn how to make a variety of units with the Magic Triangle Ruler (see description above). The afternoon is spent designing their own one of a kind quilt using their assortment of blocks and the techniques learned in the first session. Also available as a two day class. Great companion to the lecture of the same title.
"Straight Stitch Machine Embroidery"
Replicate redwork embroidery in a fraction of the time using any straight stitch sewing machine, even a Featherweight! For the class project we will start with pre-printed embroidery blocks (students may choose animals or flowers). 3 hours. Pairs well with any lecture.
"Back Basting Hand Applique"
The topic of my book,
Back Basting Applique Step by Step
, this hand appliqué, needle turn technique introduces students to the basics of back basting applique while learning to add a curved accent border. 3 hour option includes borders and the basic technique. 6 hour option includes additional instruction for adding reverse appliqué, layered appliqué, fine points, curves and much more while students begin the center appliqued sunflower design on a small 15″ x 15″ project. Pairs well with any lecture
"Back Basting by Machine"
Machine appliqué using a narrow zig-zag stitch on your machine – without freezer paper or fusible! A machine with an adjustable zig-zag stitch is necessary for this workshop. 12″ x 12″ block. 3 hours or 6 hours. Pairs well with any lecture.
Pineapple Log Cabin Color Wheel
Using Marti Michell's pineapple log cabin ruler, make a color wheel with solid fabrics. Most students will complete the 17" top in the workshop. 3 Hours. Kit available with the ruler (kit contains 50 different gradated shades of solid fabric.) A great companion workshop for the "Just Solids" lecture.
"It's all in the Sashing"
Learn my system of fitting sashing and cornerstone settings to any size blocks. Students bring their own completed blocks and 'try on' sashing options. They will learn to build cutting charts, calculate yardage and begin sewing their own projects in the 6 hr workshop. $5/student fee for handouts. Also available as a two day workshop. This workshop is now a Craftsy Class! This is an excellent companion class to the lecture of the same name.